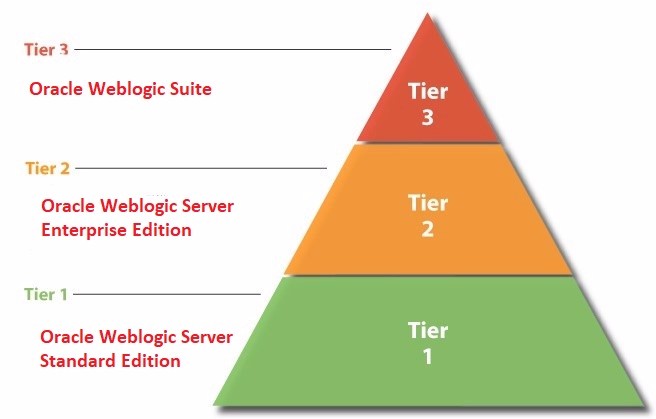 After Oracle acquired BEA in 2008, the BEA Weblogic products were integrated into Oracle's middleware offerings under the Oracle Weblogic family. Currently, Oracle Weblogic Server is primarily available in 3 separate editions with different functional capabilities, each of them suitable for different kinds of applications and different development and deployment scenarios.
These 3 editions (in increasing functionality order) are as follows:
Oracle Weblogic Server Standard Edition
Oracle Weblogic Server Enterprise Edition
Oracle Weblogic Suite
Oracle also offers several application server options, packs, and other products that enhance the capabilities of Oracle WebLogic Server for specific purposes.
A license of 'ORACLE WEBLOGIC SERVER STANDARD EDITION' includes in it certain high level functionalities as follows:
Core WebLogic application server
TopLink and Application Development Framework
JDeveloper
Enterprise Pack for Eclipse
Security Developer Tools
Web Tier
Java SE, etc.
However, with a license of 'ORACLE WEBLOGIC SERVER ENTERPRISE EDITION', the customer gets all the Standard Edition functionality, plus the following:
Clustering support
Oracle Virtual Assembly Builder
Oracle Java SE Advanced
At the top level of Oracle's Weblogic family, we have the ORACLE WEBLOGIC SUITE that includes the following additional functionalities on top of the Oracle Weblogic Server Enterprise Edition:
Oracle Forms & Reports
Oracle Portal
Oracle Discoverer
Coherence EE
Java SE Suite, etc.